New Zealand Mini Golf Open 2023
Aotearoa's Annual Mini Golf Competition - the New Zealand Mini Golf Open - is heading to Wellington this December!
Golf Warehouse in Lower Hutt boasts a driving range, a pro shop, a 9-hole golf course and an outdoor 18-hole "Round the World" mini golf course inspired by internationally famous golf holes. The Par-54 course was re-laid in 2022 so these fresh greens should entertain beginner mini golfers and experienced players alike.
Put your putting skills to the test against New Zealand's best minigolfers, or bring along some friends to settle that argument of "who's the best putter?"
We've fine-tuned for 2023's Open, including the new "Mixed Pairs" category, and this year's NZ Open is also part of the inaugural World Adventure Golf Tour - with 1st place overall Pro qualifying for free entry into the WAGT 2024 final in the Czech Republic! Read more about the WAGT below.
---
---
This year's categories:
Youth Competition
Players aged 5 up to 17 play two rounds of 18 holes in groups of 3-4. The lowest score takes out first place.
Amateur Mixed Pairs
Whether it's your best friend, conscripted offspring, or that person you persuaded from social media, brainstorm your team of two's name and come along.
Pairs will play two rounds of 18 holes, with the lowest combined score taking first place.
If you are also playing in another amateur category, your first two rounds will contribute to your team score.
Unfortunately, Pro division players are not eligible to compete in the mixed pairs category.
Senior Competition
Players aged 55 and over are invited to compete in the Seniors category in 3 rounds of 18 holes.
You'll draw upon the culmination of your years of wisdom to compete in a league of your own, complete with trophy and of course, bragging rights.
Women and Men Amateur Competition
This is where all the backyard putters come out of the woodwork, slap on some jandals and head on down to the local mini putt. But don't let the "Amateur" title fool you as you'll need all your focus and steady hands to come out on top.
This division is split up into Men's and Women's and consists of three rounds of 18 holes and played in groups of three or four with the lowest score taking first place.
To enter as an Amateur competitor, players must be 18 years or older and not a member of the Pro League (we may also recommend the pro division if you're an experienced mini golfer.)
Bring along a team mate and compete in the Mixed Pairs category, too!
We also welcome first place winners to continue in the Pro division in the afternoon and Sunday.
The Pro Competition
Players competing in the Pro division know this is a matter of endurance as players pace through 8 complete rounds of 18-hole mini golf (in groups of 2-4) to take home a piece of the prize pool as well as a sweet trophy!
The Pro Competition starts on Saturday morning for four rounds before another round in the afternoon and reconvening on Sunday morning for the remaining three rounds.
The Rules
You are welcome to bring your own golf putter or use one from the course
Only genuine golf balls or European mini golf balls are permitted
The maximum stroke count per hole is 7
If a ball exits the lane, it can be placed at the point of exit without a penalty stroke
The ball may be moved up to 20cm away from the edge
Play fair, and treat others with respect
More details on competition rules are available in our rulebook here - we recommend having a look through but we'll run through the key points again before tee-off.
Beyond those points, officials will be on hand to adjudicate and assist with any questions.
Cheating is unacceptable and will be dealt with seriously.
The Prizes
Along with the trophies and medals, Pro division has a cash prize pool of at least $1,000. This will be awarded to 1st place Womens and Mens as well as 1st-5th for Overall. Overall 1st place also qualifies for free entry to the 2024 WAGT final.
Amateur prizes are still to be confirmed.
We'll also be awarding the "Most Aces" and "Lowest Round"
Golf Warehouse and Nearby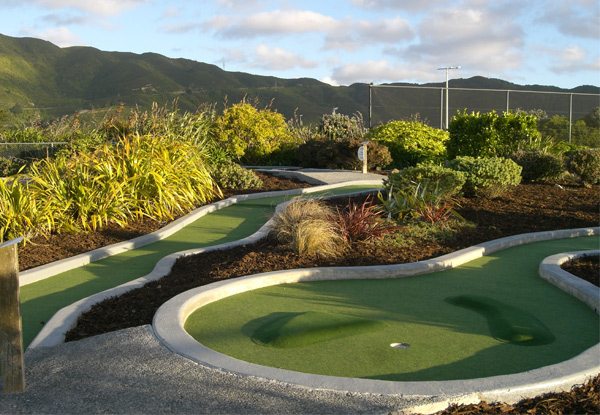 Golf Warehouse is located on Randwick Road in Moera, Lower Hutt. The venue has limited parking that is used for the whole facility so we recommend competitors park on the street.
Bus routes 83 and 130 stop nearby and the Woburn train station is approximate 18 minutes walk from the course. If you're looking to use public transport, check out the Metlink Journey Planner
Food
While we recommend you bring your lunch and snacks, conveniently just outside the main entrance is The Coffee Box - which is open 7 days a week, as well as serving some sweet and savoury treats. You will also find a Z service station 10 minutes down the road.
Accommodation
You will find many lodgings in Petone, including the Top10 a short walk from the course!
Practice
Many of you will be keen to practise in the days leading up to the competition. Once we confirm practice rates, we'll update here.
You are also welcome to practise on the day before tee-off, but once play starts for the day, no further practising is permitted (including between rounds).
The Schedule
Saturday 2nd December
9:00am Check-in opens and warm-up begins
9:45am Player briefing and groupings
10:00am Tee-off for all categories
12:30pm Lunch break (Bring your own lunch)
1:00pm Prizegiving (estimated)
1:30pm Pro round 4 tee-off
4:30pm Close of Day 1 (estimated)
Sunday 3rd December
9:30am Day 2 Warm-up
10:00am Pro Round 6 tee-off
12:30pm Prizegiving (estimated)
Groups will be "re-seeded" before rounds 3, 4, 6 and 8 based on current score. This means those rounds will only tee off once all players have finished the previous round and can lead to changes in the scheduled times.
From the WAGT Website: The World Adventure Golf Tour was founded to give players access to an Worldwide ranking system and a Tour Final event with the best players from around the World and a large money prize pot. All at no additional charge to the players.
The tour consists of 12 events from international mini golf federations, each one a qualifier for the top players to take part in the prestigious WAGT final over two days in April 2024 at Bowling Brno in the Czech Republic.
As a WAGT event, the overall Pro winner of 2023's New Zealand Open qualifies for the final to compete for a share of at least 5,000 Euros! (Please note: travel, accommodation and other costs not included)