NZ Minigolf Open 2019
Results are now available for Amateur and Pro Divisions
The 3rd annual Minigolf Open is taking place on the 9th March 2019 at Lumberjax Minigolf in Rotorua.
This is New Zealand's premier mini golf event where you can put your putting skills to the test against New Zealand's best minigolfers or simply enjoy some fun and friendly, but competitive, games.
We had great feedback about the competition last year, so we're going to keep doing it!
This year's categories are:
Youth (5-17 years)
Parent & Youth team
Womens & Mens Amateur
Pro
The Amateur Competition
This is where all the back-yard putters come out of the wood-work, slap on some jandals and head on down to the local mini putt. But don't let the "Amateur" title fool you as you'll need all your focus and steady hands to come out on top.
This category is split up into Mens and Womens and consists of three rounds and played in groups of four - Lowest score wins.
To enter as an Amateur competitor, players must be 18 years of age or older and not a member of the Pro League.
Those with keen young ones may also be interested in playing in the Parent & Youth team category as well as registering in Parent & Youth automatically enters you into the appropriate Amateur category.
Winners are also invited to join players in the Pro division in the afternoon.
Youth Competition
During competition, some of our more seasoned players will be around to provide some tips and help out with understanding the greater game.
Players will play two rounds in groups of four.
To enter as a Youth competitor, players must be between 5-17 years of age (inclusive).
If you can rope in an older player, take a look at the Parent & Youth team category as registration grants you automatic entry to this Youth category also.
Parent and Youth (Team) Competition
A Parent and Youth team consist of one player 18 years or older and another that is between 5-17 years old (inclusive).
Each pair will play two rounds - usually with another pair. The combined lowest score wins.
Entry to the team competition is as simple is selecting it at ticket purchase and entering a team name. Players also receive a discount on their combined entry.
Players in the Pro Division will need to play two separate rounds in the morning to complete their team score. These rounds do not contribute towards their Pro score.
The Pro Competition
Players competing in the Pro division know this is a matter of endurance as players pace through 8 complete rounds of mini golf to take home a slice of the prize pool.
The Pro Competition starts on Saturday afternoon for four rounds before reconvening on Sunday morning for the remaining four rounds.
The Prizes
The current prize pool is around $3,000
The Rules
You are welcome to bring your own golf putter or simply use one from the course
Only genuine golf balls or European mini golf balls are permitted
Hit within the marked tee-off area at the start of each hole
Maximum strokes per hole is 6
If a ball exits the lane, it can be placed at the point of exit

without a penalty stroke

The ball may be moved one official

score-card length

away from the edge
Don't be a dick
Beyond those points, officials will be on-hand to adjudicate and assist with any issues or questions. Any cheating will be dealt with severely.
Before the Event
Practice will make perfect, so get to your local course.
Our heroes at Lumberjax invite you to come down and practice at the course on the week leading up to the Open for $10 per day, as long as you have registered for the competition.
The Schedule
Saturday 9th March
8:00am Check-in opens
10:00am Amateur, Parent & Youth Tee-off
10:30am Amateur, Parent & Youth Check-in closes
1:00pm Prizegiving (estimated)
2:00pm Pro check-in closes and tee-off
5:00pm Close of Day 1
7:30pm Social Dinner
Sunday 10th March:
9:00am Pro Round 5 tee-off
1:00pm Prizegiving (estimated)
Sponsors
We're fortunate enough to have some generous folk out there and wish to thank our sponsors: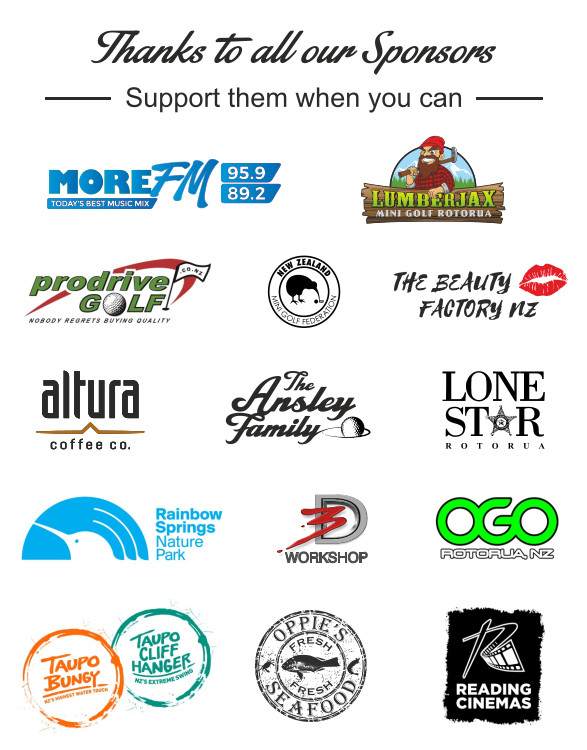 Thanks again to
The Ansley Family