NZ Mini Golf Open 2021 (Postponed)
Due to current COVID-19 alert levels, this has been postponed until 2022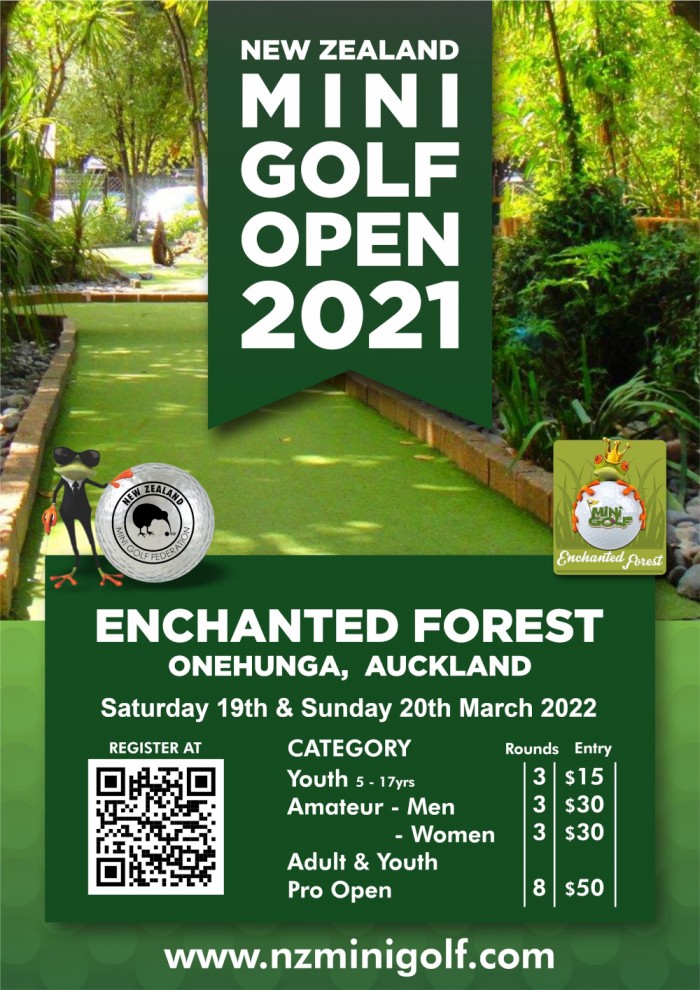 We are proud to announce the 5th Annual New Zealand Mini Golf Open taking place this November 2021 at Enchanted Forest Mini Golf in Onehunga, Auckland!
New Zealand Mini Golf Open
Amateur Men & Women divisions - 3 rounds of 18-hole stroke play. Lowest total score wins.
Youth division - 2 rounds of 18-hole stroke play. Lowest total score wins.
Pro division - 8 rounds of 18-hole stroke play. Lowest total score wins.
as well as Adult & Youth Teams (based on combined Youth and Amateur scores)
Schedule
Saturday 20th November
10:00am Player Check-In Opens & Practice
10:20am Player Briefing
10:30am NZ Open General Womens, Mens and Youth Tee-Off
1:00pm NZ Open General Division Prizegiving
2:30pm Pro Division Tee-Off
Sunday 21st November
9:00am NZ Open Practice
9:15am NZ Open Pro 6th Round Tee-Off
Re-seed Prior to Final (8th) Round
12:00pm Prizegiving
Venue
Enchanted Forest Onehunga is a local favourite for Auckland players and is one of the city's top mini golf courses.
A map of the 18-hole course is available here
Before the Event
Practice is welcome before tee-off.
The practice fee for registered competitors is to be confirmed shortly.
Key Rules
You are welcome to bring your own golf putter or simply use one from the course
Only genuine golf balls or European mini golf balls are permitted
Hit within the marked tee-off area at the start of each hole
Maximum strokes per hole is 7
If a ball exits the lane, it can be placed at the point of exit

without a penalty stroke

The ball may be moved one official

score-card length

away from the edge
Don't be a dick
Players should read through the more detailed rules at https://nzminigolf.com/rulebook
Course-Specific Rules
Hole 3 has a swinging log that will be tied back to remove the obstacle from play
Hole 12 has two holes - both are valid
Due to current COVID-19 alert levels, this has been postponed until 2022
The NZ Open will take place at COVID-19 alert level 1. Our top priority is everyone's health and safety so if any part of New Zealand is above alert level 1, we will review how practical and safe it is for the competition to proceed. In the event the NZ Open must be cancelled, a full refund will be provided. Unfortunately we cannot invite international players due to the restrictions on travel into New Zealand.